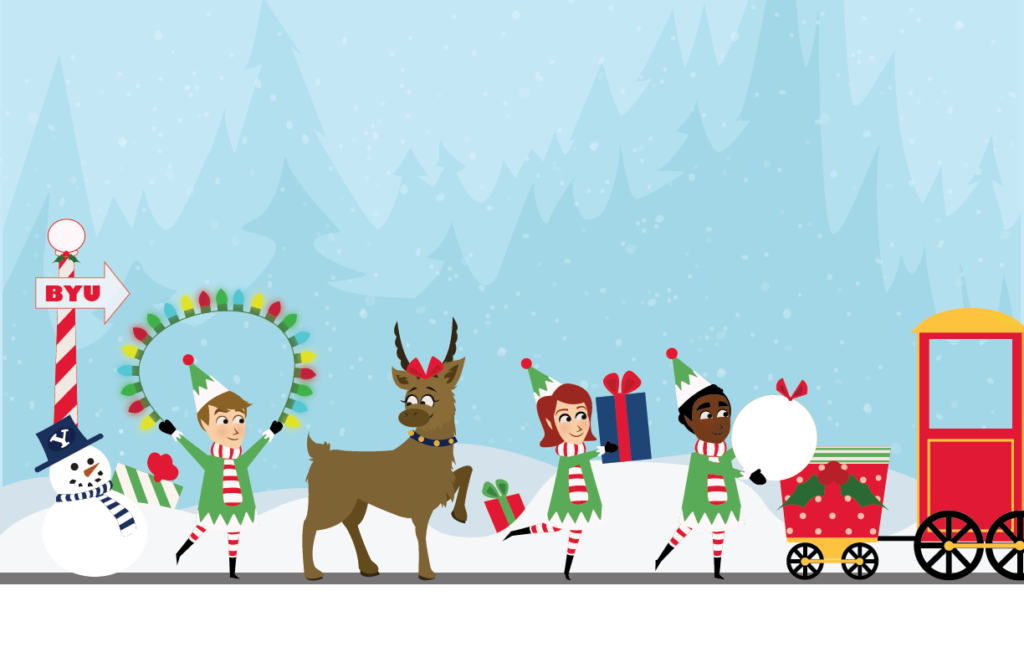 The Universe is hosting a daily giveaway that runs for 8 consecutive school days. From December 3 through December 12, there will be an opportunity to win up to 8 daily prizes and 3 grand prizes.
HOW IT WORKS
This giveaway is run through The Universe newspaper using our augmented reality app, The Universe Plus. We will have two ads in the newspaper spanning the two weeks of the giveaway with 8 different triggers. Each day, a different daily trigger will be activated and the previous day's trigger will be deactivated. Those interested will have the opportunity to scan the active daily trigger and enter their information into a google form for a chance to win one of two daily prizes. Additionally, each day they enter to win a daily prize, they are automatically entered in to win 1 of 3 Grand Prizes. There are 8 possible entires into the grand prize drawing if they enter every single daily drawing. The daily entries are the only way to be entered into the grand prize drawings. On the 8th and final day of the giveaway, we will host a big event in the Wilk where we will have a grand prize celebration.
HOW TO ENTER DAILY
Pick up a copy of The Universe newspaper
Find the Christmas ad
Using the Universe Plus app, scan the corresponding daily image
Enter your information
Submit
DAILY PRIZES
Day 1- (Tues. Dec. 3)- Alta Ski Tickets for 2 or 4 tickets to the Sundance Film Festival
Day 2- (Wed. Dec. 4)- Doc Brundy's $100 Gift Card or 4 Tickets to the Utah Grizzlies
Day 3- (Thurs. Dec. 5)- 6 Tickets to the Midway Ice Castles or Sundance ski lift tickets and rentals for 2
Day 4- (Fri. Dec. 6)- 2 Get Out Passes for a Year or 4 tickets to the Aquarium
Day 5- (Mon. Dec. 9)- ; Chip cookies for a year or 4 Provo Beach Resort day passes
Day 6- (Tue. Dec. 10)- equipment rental for the season BYU Outdoors Unlimited or 4 Tickets to the Utah Grizzlies
Day 7- (Wed. Dec. 11)- Party of 4 at Escape Prose or Farr Better Ice Cream party for 10
Day 8- (Thurs. Dec. 12) $100 Gift Card to Bricks & Minifigs + Dinner for 2 at Good Moves Cafe or $100 Tucanos Gift Card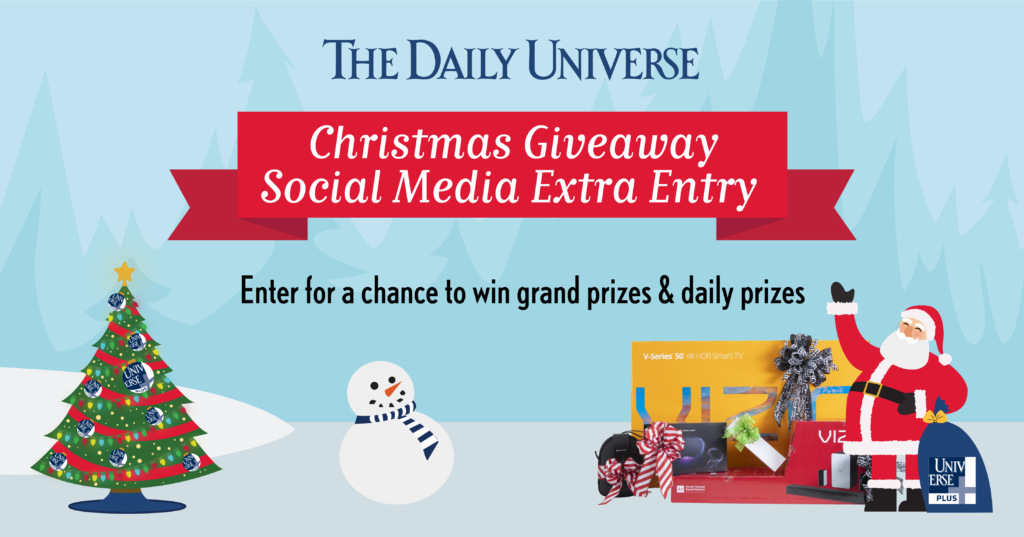 GRAND PRIZES
VIZIO 4K TV and Surround Sound system
Oculus Quest All-In-One Gaming System
Apple Watch Series 5
THE GRAND PRIZE EVENT
WHEN: Thursday December 12 at 11 a.m.
WHERE: The Wilk Terrace
WHAT: There will be free BYU Milk & Cookies while supplies last, more prizes and the drawing for the 3 grand prizes. We will have gift baskets, ugly Christmas sweaters, stockings and of course, the grand prizes.